When you physically walk into a shop in the real world, you can pick up a product and view it from all sides and angles. Your visitors can't do this when viewing your online shop, however you can offer them the ability to view your premises and products from all 360 degrees and get a better understanding of its quality and look by presenting it to them using B2Bimages 360 virtual tour commercial photography services.
B2Bimages commercial photography services allows you to connect with your visitors and more importantly engage them with your premises and products. It is important to keep their attention. Shoppers attention spans can be quite short however if they are interested in your product and you show it to them in a new, fresh, and exciting way, you bring your products alive and evoke a sense of connection. Engage with your visitors via B2Bimages 360 degree virtual tours and 360 product photography views and it will bring you added credibility. Add trust to your brand and will inspire your website visitors to purchase. B2Bimages virtual tour commercial 360 degree photography service puts the spinning image in every website owners reach. It can help increase sales by over 27%, cut down on returns and increase profit margins. Engage your website visitors today and help them down the path to click on your buy button.
B2B Images is a certified Google Trusted Photographer and has undertaken many 360 virtual tours linked to Google Streetview across Hertordshire, Essex and the South East.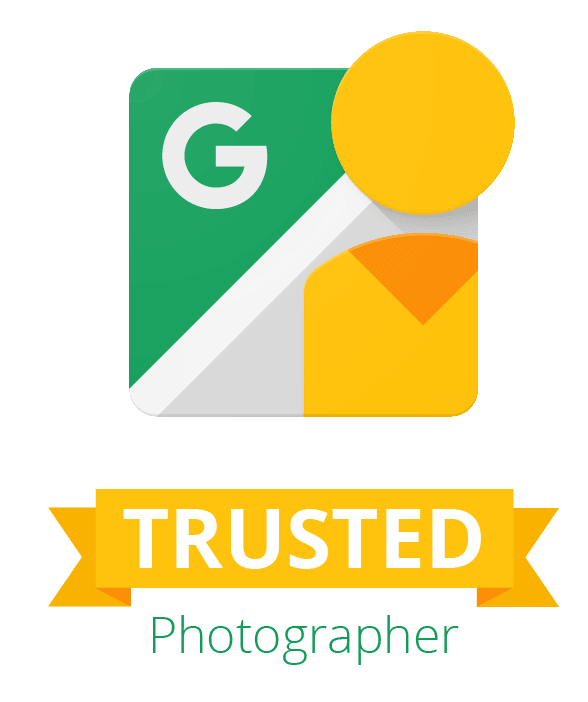 Google Trusted Photographer
What is Google Street View Trusted?
Google have trained and tested selected photographers across the country  to work on this programme and Tony Meehan of B2B Images has been selected by the Google Street View team to be part of the Google Street View Trusted Photographers programme covering businesses throughout Hertfordshire, Essex and the surrounding counties. Bring your business to life: create a 360-degree, interactive tour. Showcase all the details that your customers love. Perfect for restaurants, retail shops, gyms, salons and more!
Google Street View Trusted project allows companies to enhance and showcase their business by having a virtual tour of their premises built upon the Google Street View technology which is integrated with Google Maps. Specialist equipment is used to capture high-quality still photographs that will be stitched into 360-degree views using panoramic camera technology. Tony will also take a number of high quality still images (Point of Interest photos) that are also embedded into Google to enhance your listing and give better search results to your Google Local+ and Places Page.Google 360 Degree Tours uses the same Street View technology used in streets around the world – for inside your business.  Creating high-quality, interactive, 360-degree experience which can be added to your Google Maps page to give your customers interactive features allowing them to find you online, walk through, explore and take a closer look at your business.  Tours can also be added to your own website, and social media sites too. Call today for your quote 01920 318040
360 degree product spins also available.
There are many benefits to the business owner who keeps up with technology and implements new and innovative ways to grow their business. With conversion rates of 27% and higher and a large decrease in returns, whats not to like? There are many more benefits to having a 360 tour of your premises and, or 360 product views on your e-commerce site. If you would like to find out how your business could benefit from this wonderful and innovative way of increasing sales, please call the studio on 01920 318040 or fill in the form below. We look forward to helping you increase your sales soon.